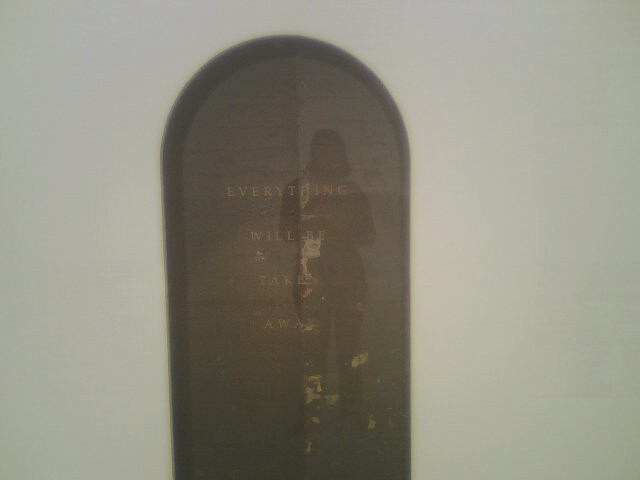 How I became an object in Adrian Piper's gallery show at Elizabeth Dee across the street from a state correctional facility at 23rd street in Chelsea or it could easily be me,
Digital images from mobile phone
2008
I photographed my reflection in Adrian Piper's sculptural pieces on an excavated wall behind glass and another of an etched mirror. Both pieces have the etched words 'Everything will be taken away'. Before my visit I spent a day reflecting on her 1971 piece 'Food for the Spirit', where she documented herself after several days of fasting and reading Kant's 'Critique of Pure Reason'. I was fascinated by how my identity as a Hispanic woman artist was affected by Piper's work and by the correctional facility that was directly across the street from the gallery. For me, the inmates presence was heightened. I wasn't sure who was out of place in Chelsea: me, the art world or the inmates. Before exiting the exhibition, I left a postcard of my work 'Woman with Egg Eyes", behind 3 pieces.